ArtTouch: Multi-Touch exploration

mesas multi-touch, interacção, visualização, interfaces, design

Nuno Correia Coordination
Rui Nóbrega Technical Coordination
Tarquínio Mota Electronics and Materials
Luís Silva Software
Andreia Almeida Design

---
Mesa Multi-touch CCB ArtTouch(FTIR)
Multi-Touch Table Frustrated Total Internal Reflection
Multimedia module developed with a multi-touch table that allows the visitors of a museum an interactive experience. The multi-touch application intends to create discussion around the works presented in the exhibition. Project site.
Table using a FTIR setup developed at CITI (Universidade Nova de Lisboa) as shown on the bottom of this page. The structure and projection system was developed by Lusoscreen (see below). This is a FTIR table, adapted from the LLP experimental table (see below). The image area is 133x100 cm.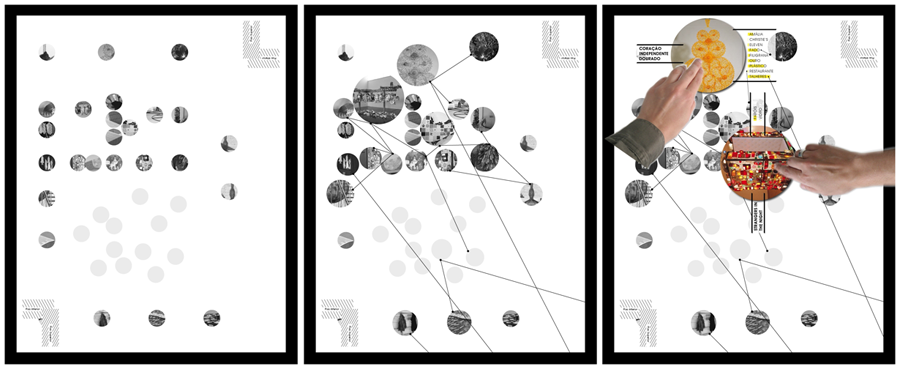 ---
---
Mesa Multi-touch usando Lasers Infra-Vermelhos(LLP)
Experimental Multi-Touch Table Laser Light Plane
Table with 4 lasers constructed at Lusoscreen. It uses the lasers to create a plane of light above the glass. When the users touches the glass, light is reflected to the infra-red camera inside the box. The image area is 133x100 cm.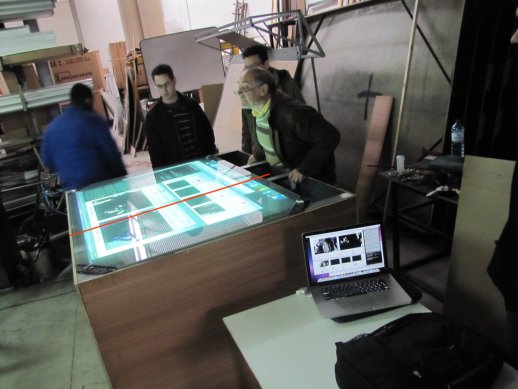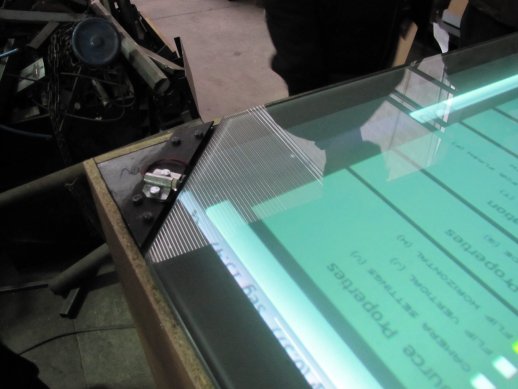 ---
Mesa Experimental
(
FTIR
)
Experimental Multi-Touch Table
This a simple experimental table using the FTIR setup. It is a wooden box constructed at Estevão & Mota Lda. carpentry, with a 0.8 mm acrylic, a projector, two mirrors and an infra-red transformed PS3 EyeToy. The acrylic is surrounded by an infra-red LED ribbon and the surface is composed of two layers. The first layer is tracing paper with a painted solution of solvent+silicone. The second layer is a retro-projection screen or Rosco Grey. The detection is made using CCV. The image size is about 60x50 cm.